India's global record of daily COVID-19 cases signals a dark few weeks ahead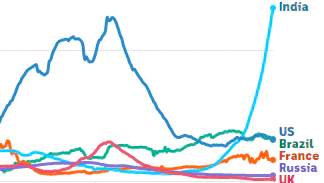 India reported a global record of more than 314,000 new infections in a single day on Thursday, and its dramatic spike in new infections shows no signs of slowing down.
The past seven days has consistently brought more than 200,000 new daily infections, raising the total number of cases to more than 16 million. 
It's the fastest pace of spreading infections and the highest daily increase in coronavirus cases the world has seen yet, and it's pushing India further into a deepening and deadly healthcare crisis.
Let's put India's second wave in context
India's rolling seven-day average is currently more than 265,000. That's nearly three times what it was this time in February.
New cases have seen a steep increase since January, which is…